RM Machinery Installs Longstanding RMGT/Mitsubishi Press User, Colbert Packaging's, 2nd RMGT Sheetfed Packaging Press in Three Years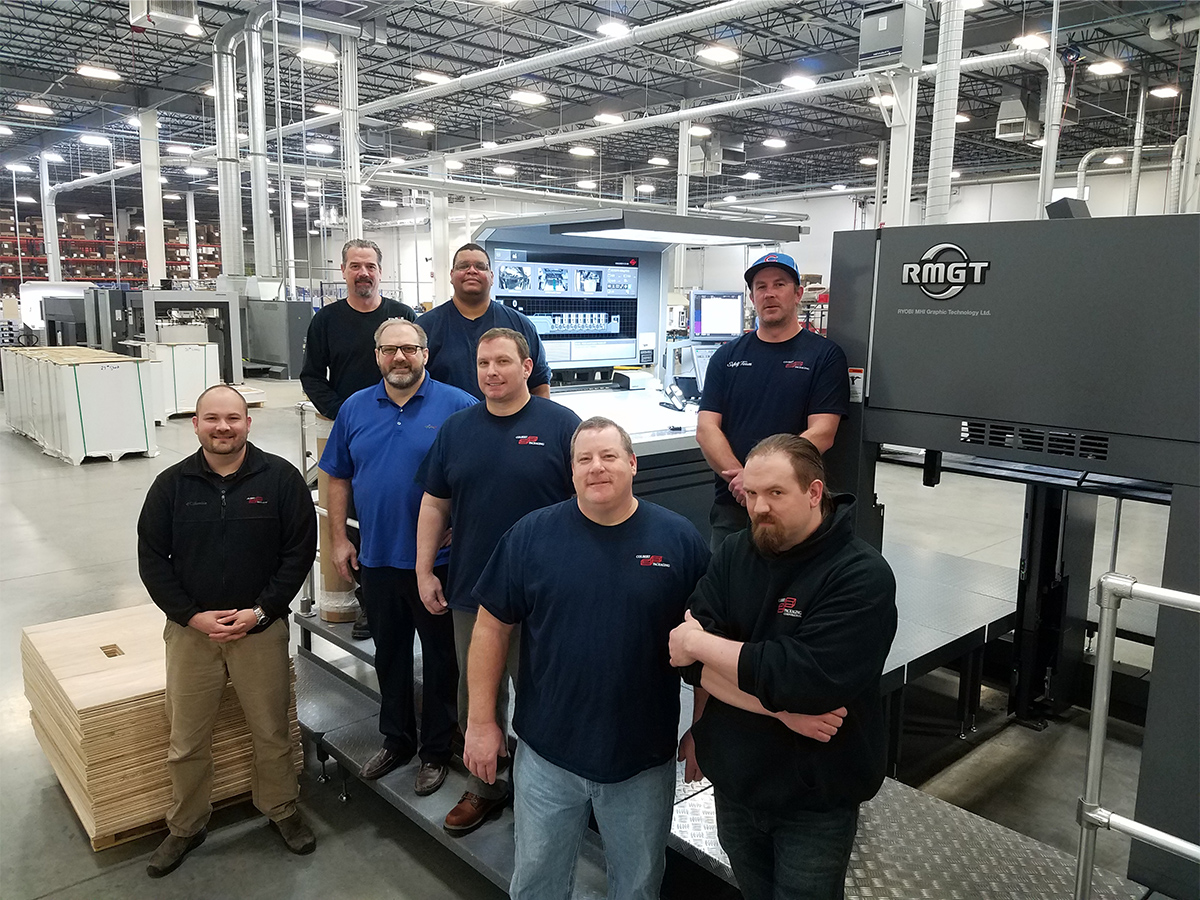 Click image to enlarge.
RM Machinery, a leading distributor of popular RMGT 10-Series sheet fed offset presses, has sold and installed a new RMGT model 1050LX press at Colbert Packaging Corporation, which marks the venerable, 61-year packaging company's 4th Mitsubishi press. The machine was recently installed at its Kenosha, Wis. facility.
The new leading edge press manufactured by Ryobi MHI Graphic Technology, builds upon the packaging press technology that originally won over Colbert Packaging when the growing company installed three RMGT/Mitsubishi presses to serve its customer base over the past two decades.
RM Machinery was established in 2013 to help serve the sales and support needs of the then newly established, Ryobi MHI Graphic Technology, the company formed by the merger between Ryobi and Mitsubishi Heavy Industries' Printing and Packaging Machinery division. RM Machinery is part of the Graphic Systems North America (GSNA) group of regional distributors and provides sales, service, support and parts for RMGT 9 and RMGT 10 sheetfed offset presses.
Rahul Kaushik, CEO of RM Machinery, acknowledged the milestone purchase by Colbert Packaging of its 4th Mitsubishi pedigree press. "The new RMGT 1050LX press is an outstanding machine that will serve Colbert Packaging well for many years." The previous Mitsubishi packaging presses, still contributing to the family-owned packaging company's growth and success, are testimony to the quality and durability of RMGT technology.
Colbert Packaging VP of Operations, Bill Snyder, said of its new RMGT 1050LX machine, purchase "Investing in technology, speed and capacity enables our employees to work smarter and satisfies customer demand. This press also demonstrates Colbert's deepening commitment to sustainability." The highly respected, Lake Forest, IL-headquartered packaging innovator also has facilities in Elkhart, Ind. and Kenosha, Wis.